We knew Eden, our female Great Pyrenees was expecting some time this week. On Monday while Josh was at work (which is when the disasters excitement always happens on the farm), Eden's puppies began their life in our unheated not-garage, behind the cooler and upright freezer. After Eden easily birthed 6 pups, cleaning each thoroughly, I moved the puppies in to the slightly-warmer mudroom and added an electric radiator. With much encouragement, Eden followed and got back to the motherly work of cleaning up her babies. They were all mewing, but no one was latching for milk yet.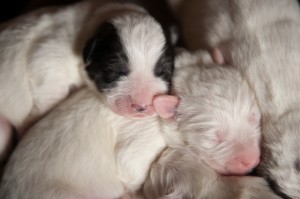 After an errand that demanded I be away from the farm for a few hours, I returned home to find two more puppies! Eden birthed 8 puppies in all. Sadly we lost one early in the week, but the remaining seven are as active as puppies so young should be and plumping out nicely. We're planning to sell all but two, preferably to other farmers needing livestock guard dogs. In the meantime we are melting in the goo of cute puppyness. We are very impressed with Eden's mothering and her instincts all around. We're always counting to make sure everyone is accounted for. At times one or more puppy finds themselves behind Eden. But we've also seen Eden use her tongue and nose to scoop them up over her back to land in front of her among its siblings. It appears that there are 2 females and 5 males. Three are all white and 4 with badger markings.
An example of disasters that befall the farm when Josh is away for his two 10-hour days at his off-farm job: we have one turkey left from our overall frustrating turkey-year last year (first the turkeys never arrived from the hatchery … it didn't get better in terms of our success with turkeys after that). So we decided to keep the one remaining turkey as she is a heritage breed and look for a tom and another turkey hen or two. In an example of a friend of a friend of a relative … Josh's parents  accidentally tracked down 6 hens and one tom. This was so unexpected and we were so excited. The turkeys came home in a cattle trailer borrowed from Josh's parents to use to bring pigs to Locust Grove, the closest USDA processing facility. The turkeys became roommates to the ducks and all was well.
One day, recently, one of those warmer days, Josh decided to let the turkeys and ducks out of their coop. The ducks returned home, but the turkeys decided to bunk in the hayloft. And the next day we had to retrieve them from under the three massive evergreen trees at the bottom of the driveway. We returned them to the hayloft, assuming it was a cozy home that they would be happy to return to and would give them some space from the ducks. Within days the turkeys had moved on, all but our original. By the time we realized the tracks were covered with fresh snow or blown away. So we're back to our lone turkey, that we're calling Rosie.
The warm patch of weather melted the ice aggressively, but not enough. With the warm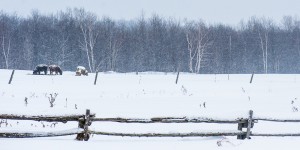 weather came plenty of snow (yes, warm weather = snow), which made the ice-coated ground much easier to walk on. But the temps have dipped even colder (although not as cold as it was) and the frigid wind that came with that cold temp has blown much of the snow off of our drive and farm roads. That brief melt filled in the very few rough patches in the ice, and our walkways are slick than slick. It's treacherous – we've fallen many many times this year as we go about chores. It's all part of the routine these days!
Everyone is anxious to hear about a creamery update – and we're anxious for there to be something worth saying! We're in talks with a local lender. Initially we were told they would let us know within a few weeks. And then a few months. And every few weeks we are asked for one more piece of information, and that should be all. But then a few more weeks pass and we're asked for another document. We're considering going directly to FSA at this point. This is the year we really want the creamy up and running.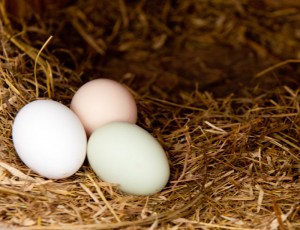 In December 100 laying hen chicks arrived. This is a little backwards. Usually we get chicks in the spring and they start laying in the fall. But our current flock is less than 40 hens is going on three years old and people want EGGS. So the chicks that arrived in December should start laying in the spring – and then we'll be hunting down all those who have begged us for eggs in the last few months. With more daylight the chickens and ducks have been laying just a little bit more.
At the end of this week we participated in Cornell Cooperative Extension and Adirondack Harvest's Food From the Farm event at the Oval in Plattsburgh. This is our second year participating in this annual event. It's always a heartwarming affair with the gym full of farmers and people interested in locally grown food.
Thank you to all who made it to the event and came by to chat. We loved catching up with friends and meeting so many new people too!
At the farm right now, you'll find some eggs (if you're lucky, there may even be a half dozen or two duck eggs) and a re-stocked upright freezer with USDA packaged pork. There is also still chicken and duck available. Just be careful coming up the driveway (although it seems leaving has been more challenging for people than coming – but we have become quite adept at helping people get un-stuck out of the driveway!). If we're around, we will try to make time to let you peak at the puppies too!