… and mud season is just starting! We can see most of our driveway now! It's exciting. The seeds really need to be started now.
The cows are anxious to get outside. Don't be fooled. We still have feet of snow and we're no where near ready for cows to be on the pasture (except the beef cows who have been out all winter). That doesn't stop the cows from longingly looking through the crack in the door of the barn, or out an open window and sniffing deeply.
Shadow, the cow we've had the longest but is probably the youngest of our small herd, has been cracking me up. She turns in her stall and makes a big show of leaping over the gutter (not so gracefully, I might add) before proceeding to the gutter in front of the milking area. And then it's a repeat: her hesitation, her bold leap, and slight slide of her hooves as they hit concrete on the other side. For the record, this gutter is maybe a foot wide, if that, and maybe six or eight inches deep. She is the most graceless cow we have and totally clueless about how laughable her antics are, because she's so determined and serious about the whole thing.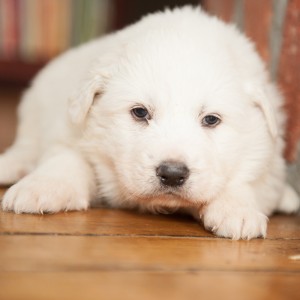 The puppies are rocking the cute-ometer! They are so distracting. You go in to the barn with every intention of giving the calves a bale of hay, feeding the pigs, and chickens, and then leaving. But you find yourself stopping to pet each of the seven puppies and ooh and ahh over how soft and friendly and all around completely adorable they are! They happily follow us all over "their" barn. We have 3 males not spoken for – so if you're interested, speak up!
In dairying news we had our loan approved to go through with the creamery! Talk about exciting! We've been cleaning out the to-be-creamery space in preparation for the ground to thaw. The first order of business construction-wise is to install drainage. In conjunction with this we'll be bracing two walls in the to-be-creamery space and improving the foundation, which is too shallow and not frost-proof at the moment. We've also been toying with the idea of purchasing equipment now as much of it is custom made when using the equipment for this scale of an operation (micro-dairy). Then, Josh's dad happened to see an auction happening in Cambridge, NY
tomorrow where many of the equipment needs we have could be met! The extra awesome thing about this is that this equipment is already being used in the State of NY so will pass inspection with little to no finagling. Whew!
Unfortunately this means missing the twice-monthly winter farmer's market this Saturday. But if you're looking for those duck eggs we're starting to swim in, pork, and whole duck – they're all here at the farm ready for you!