The mud is intense, as is expected. This is the first spring we've had to regularly use our tractor, and the ruts made in the soft mud are impressive.
We're finally seeing green, growing grass! It's exciting. We're anxious to get the cows out onto the pasture but know that putting them out too early will result in poorer pasture growth later in the season. The pasture looks amazing in comparison to what it's been like this time last year and the year before. It's so gratifying to see the results of intensive rotational grazing of both the chickens and cows. Still, as green as it is, it's short and thin still. Fortunately the yard isn't! So as in past years, the cows are the doing the first "lawn mowing" of the season. And as usual, it's the most enjoyable thing to witness – cows on spring grass!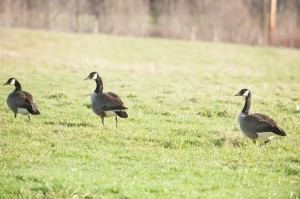 In the meantime, geese have taken up residence at the pond and surrounding pasture. It started with 2 but has grown to a flock of 10, and they come and go. They've learned to share the pond with our ducks and we haven't seen them help themselves to any chicken feed, so far so good.
We also moved our first batch of meat birds from the brooder to the pasture. They are loving the pasture and we're excited to see them out scratching and foraging through the day.
Josh brought another batch of pigs  for USDA processing this week. We have two pigs ready for anyone interested in a whole or half pig.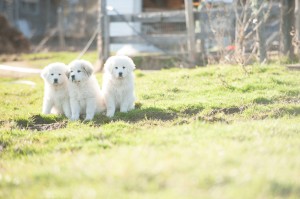 The puppies are wandering farther and farther around the farm. They impress us because they are excellent at following our lead. They race behind us (sometimes underfoot a bit too much, but less and less) and then settle down wherever we stop to work, ready to jump up and follow whenever we move on to a different task. If you know anyone interested in livestock guardian dog puppies, we still have 3 available for sale.
There's an auction this weekend with several jersey cows. It's a bit sooner than we'd like (there's still a ton of work to do to get the creamery up and running) but you don't see jerseys available everyday. So we're jumping on this and anticipate having our herd up to 6 for the summer.
The Plattsburgh Farmers and Crafters Market started last weekend, and we'll be there again this weekend with eggs (both chicken and duck!), pork, and duck, as well as homemade organic breads and milk soaps. We picked up a glass topped display freezer this week, so we're hoping to bring that and have that set up this week at the market! The market is on Saturday from 9-2. See you there!!