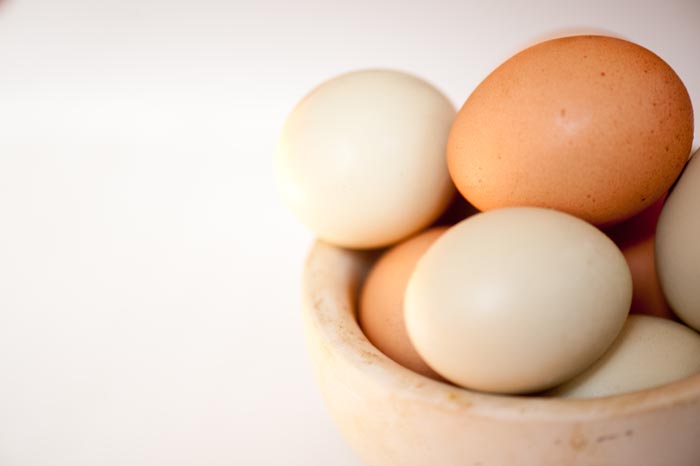 A tall curly haired gentleman arrived purposefully at our table, bike helmet under his arm, backpack slung over his back, and a matching offspring at his side.
"I'll take five dozen eggs, three extra large, two large," he said handing over an impressive stack of empty egg cartons.
I tried to conceal my surprise at the amount of eggs he was requesting, never mind his apparent means of transportation.
I thanked him enthusiastically and crossed my fingers that the eggs would remain intact on his way home via bicycle, with a older child following behind.
During the next market a woman arrived with neat brown hair and glasses requesting five dozen eggs.
"Do you know the man who got eggs from us last week and was riding a bike?" I asked.
"Oh yes, that's my husband," she replied smiling.
"I was surprised at how many eggs he bought – riding a bike no less!" I explained.
She laughed. "We go through 3 dozen eggs between markets in our family and we also buy a couple dozen for my mother," she said.
Over the next couple of months we enjoyed seeing one or the other at our table on market day. They commented on the beauty of our eggs and their exceptional taste. We glowed and tried to act modest.
During one of our last market days before our move to Saranac, it was the woman who visited our table requesting her usual five dozen eggs.
"Is it true?" she asked, "my husband was saying at dinner last night that you were moving?"
"Yes, it's true," I said. "It's sad to leave the friends we're making at the market but we've decided that it would be best for us to buy our own farm and the perfect property became available in Saranac."
"Well, congratulations!" she replied. "It's very sad for us, we've loved getting eggs from you but I'm so happy for you. It sounds like a great opportunity."
We smiled a little sadly at the thought of losing this relationship and thanked her again for choosing to get her eggs from us.
Reflecting back on this exchange I realized an amazing thing: we were becoming part of the local food fabric and we elicited conversation at a relative strangers dinner table. This is amazing.