After six years of gradually building up our small grass-fed milking herd, with the plans and equipment to establish a small creamery for cheesemaking, we are (with some sadness) throwing in the towel. We need to focus on our other projects and simply do not have enough time to get this off the ground, plus we've conceded that we really do not have enough pasture to ensure our herd would always have access to prime grazing for production and health. Accordingly, we are selling our milking stock and some dairying equipment.
The herd, essentially all Jerseys, was built up from cows and heifers purchased at a few herd-dispersal auctions in 2012, 2013, and 2014, many of which were Registered, and in turn bred to Genex bulls, meaning all but one (below) could be registered as well.
We grazed them on pasture May through November, fed hay over the winter, and besides salt/minerals and 1-3 lbs of grain per day, they are otherwise grass-fed. Electric fence trained. Have been milked in and (over the winter) tied in tie-stalls, thus handled closely. We've typically moved to once-a-day milking after 2-3 months fresh. Currently giving between 3 and 5 gallons per day (fluctuating a lot this year with the heat and the varying quality of pasture), with the older cows producing more than the younger.
As it was our intention to calve seasonally, no one is yet checked pregnant; a Milking Shorthorn bull (from North Country Creamery stock) was been with the cows since July 10 for this year's breeding.
We think all would do well joining a larger herd, or being family/homestead cows. All are quite docile and most lead well. All are being machine milked currently, some have been hand milked on occasion, and we expect all would be fine being hand-milked, though two have fairly short teats.
Cows:
Prices listed individually for the cows, discounts available for multiple cows or whole herd.
"Bridgette" – b. 6.3/2012 Registered
Fresh ~4/20
Does not do well in our tie-stalls over the winter, needs free- or box-stall long chain with space
Three-teater, but still a top producer for us
Great nurse cow; has readily adopted and suckled calves in the past
$1050
"Cairo" – b. 1/26/2013 Registered
Fresh ~5/10
Bit of a slow milker
$1100
"Sally" – b. 7/4/13 sire Percival, dam Dana (Registered)
Freshened Nov 2017 (was the last cow to be moved to seasonal calving, so was not bred yet)
$850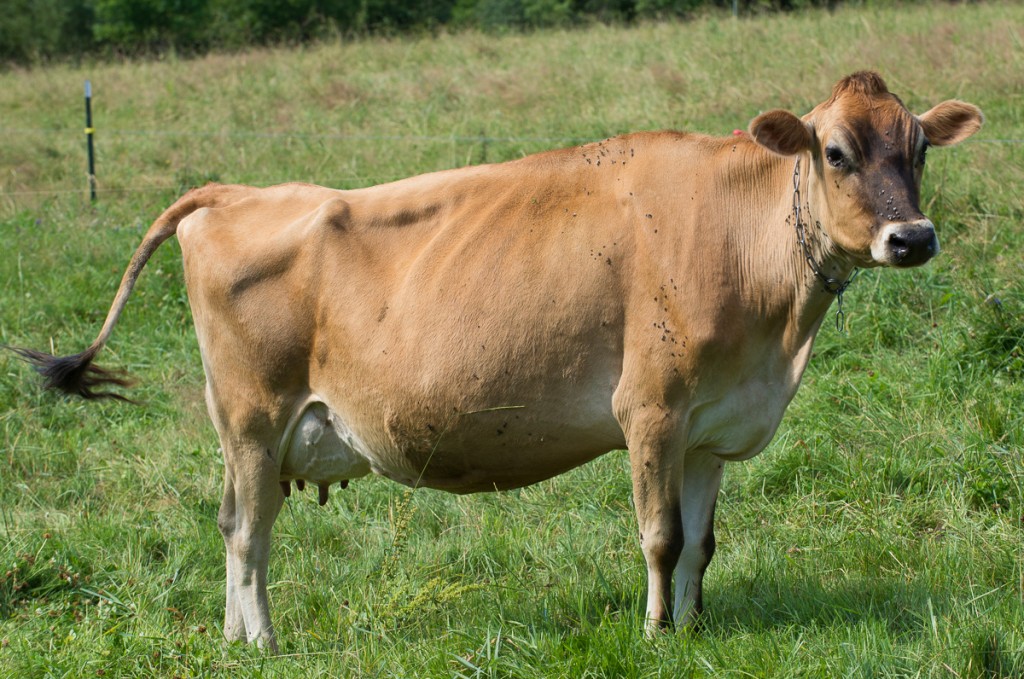 "Summer" – b. 8/15/14 sire Valor, dam Mascot (R, ¼ Holstein, making Summer 1/8 Holstein)
Fresh ~4/27
Suckled on a cow as a calf, so was not tied and handled much, is the one cow that does not lead well
Short teats
$1100
"Spring" – b. 3/24/15 sire Toronto, dam Shadow (Unregistered)
Fresh ~4/15
$1000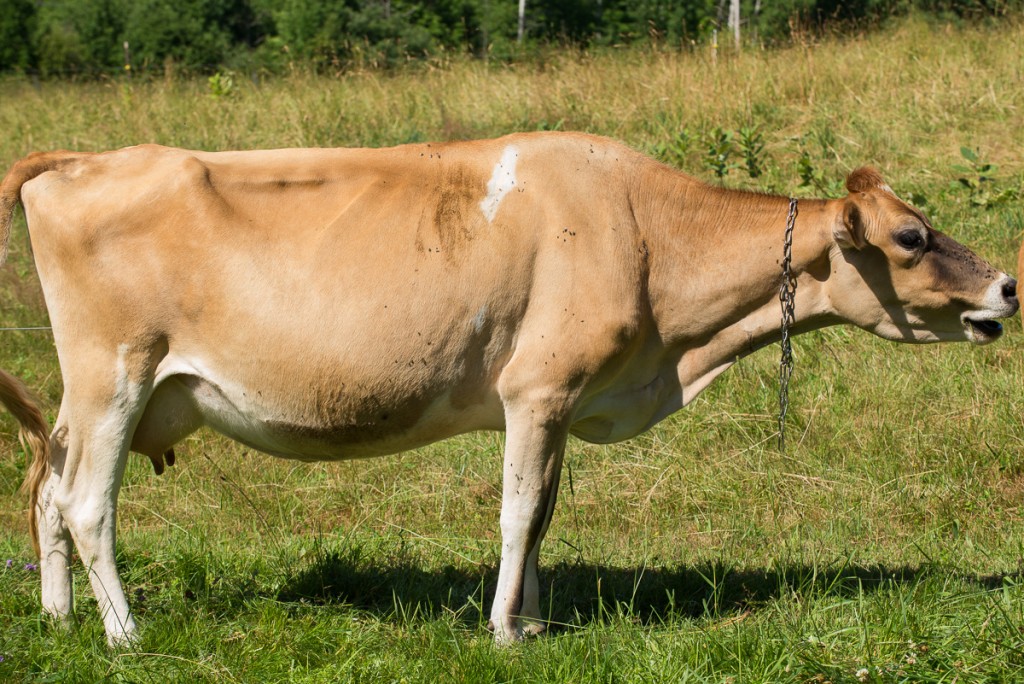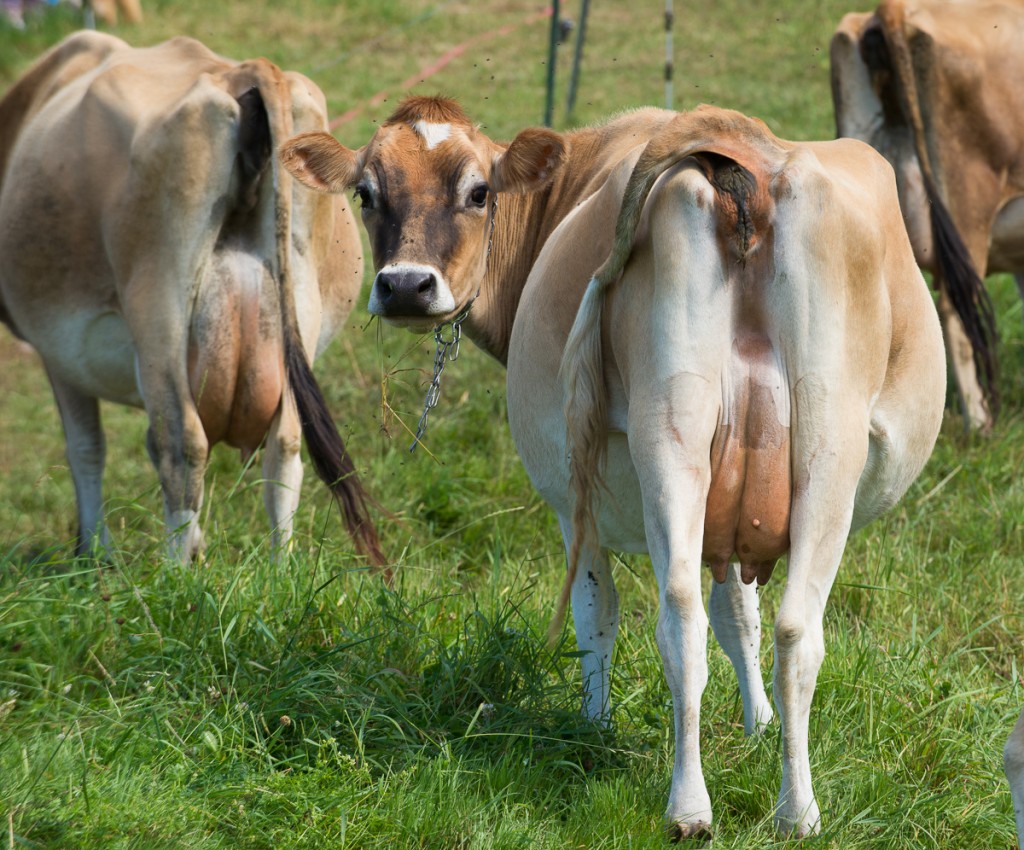 "Brie" – b. 4/7/16 sire Score, dam Sally (Registered parents)
Fresh ~4/10, first calf
$1100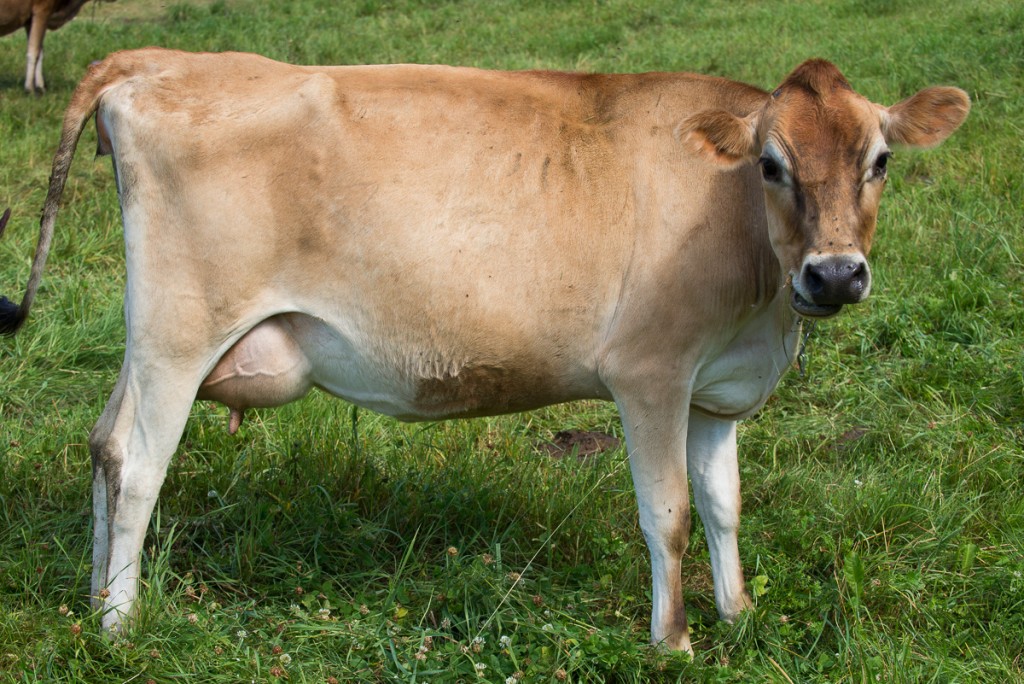 "Cheddar" – b. 5/5/15 sire Bruno, dam Cairo (Registered)
Fresh ~6/8, first calf
$1100

There are also a couple calves and heifer available, but would be sold only with cows above, not individually:
Yearlings:
"Darby" – b. 6/26/16 sire Sergeant (Guernsey), dam Summer (Registered parents)
Darby was born very small (though not premature) and continues to be very small, but the vet noted she has good conformation so nothing suggests dwarfism. Possible a sport with miniature genetics?
"Esrom" – b. 4/20/18 to Bridgette
"Feta" – b. 4/27/2018 to Summer
Both calves were sired by a ½ Red Devon ½ Jersey bull (from North Country Creamery)
For inquiries, use our contact form here or call Five One Eight – Two Nine Three – Five One Seven Four
Thanks!
We also have a portable bucket milker and pump for sale (can only go after all cows are sold)
and
a 75 gallon cheese vat and pasteurizer